The enamaled lava of our Auvergne volcanoes
Découvrez notre savoir faire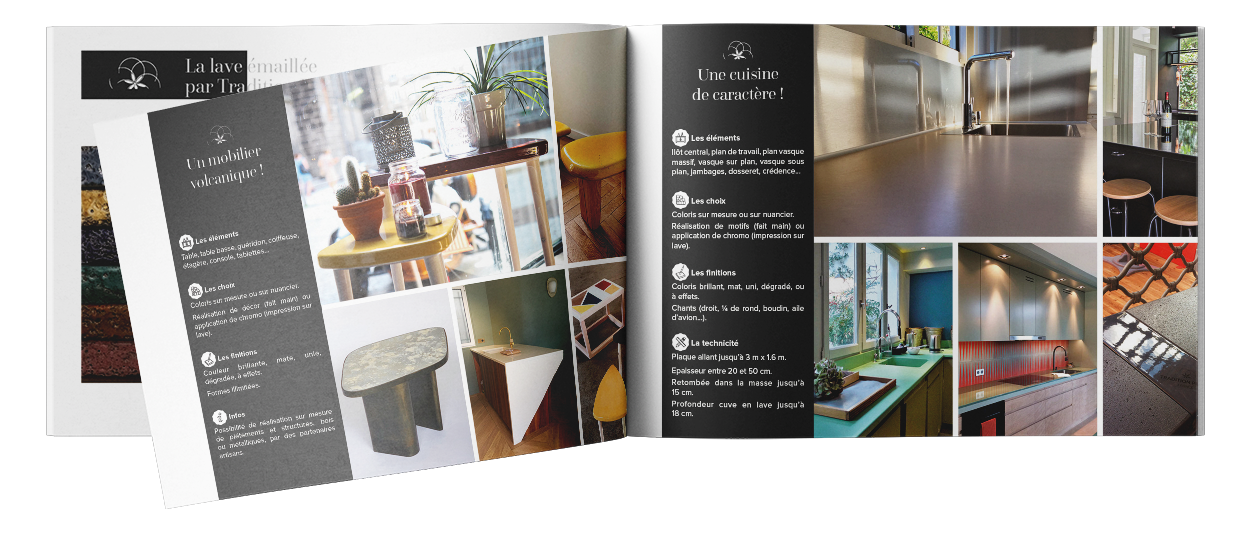 Je télécharge la plaquette
La lave émaillée...
Quèsaco ?
A material and an expertise
Tradition Pierre was born out of love and expertise for this bedrock. Made up of a passionate team, the workshop in the heart of Auvergne, surrounded by the most beautiful volcanoes, gives life to lava stone. An ancestral and natural stone which is enhanced by modern and high quality enamelling. Each piece is made with passion and attention to the rules of the art.
Made to measure French designs
Unique pieces made in Auvergne

Each work is crafted according to the principles of the art, in our workshop in Lempdais (postcode 63370). The lava used comes from the Auvergne volcanoes; the puy de le Nugère, the puy de Dôme, the puy de Côme and the puy du Sancy. For the enamelling, we use quality enamels from Limoges. Colours are made to order using colour charts or any other medium, offering infinite choice!
We specialise in bespoke work, particularly at large scale. Our two ovens can accommodate pieces up to 3m long and 1.6m wide. Each project is researched, adapted and created in collaboration with professionals as needed such as architects, interior stylists, designers etc…
Collaboration, from design to implementation.
kitchen countertops – bathroom counters – solid washbasin counters – central islands – panelling – table tops – solid washbasins – credenzas – backsplashes – [etc.]
solid pieces – side tables – luminaries – legs/bases – monoblocs – mirror housings- [etc.]
Hotel and Restaurant Industry
kitchen counters- table tops – bar tops – bar panelling – bases/legs/stands- wall panelling – [etc.]
Enamelled lava from our Auvergne volcanoes